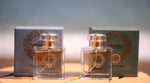 Hibernia Irish Fragrance Collection
The Hibernia range of fine fragrances were designed to capture the essence of the Celtic Woman.
Each unique fragrance embodies a different aspect of the female celtic character - passion, charm & spirit. Presented in a beautiful celtic inspired bottle, containing 50ml of divine bespoke scent, these fragrances are the perfect treat for any celtic woman & make an extremely desirable gift. They are made in Ireland using the highest quality ingredients.
Celtic Spirit
This is the fragrance for a woman who has a Celtic sense of adventure & is always excited by the journey. A woman who has an energetic, optimistic spirit & makes the most of life. The light fresh fragrance combines zesty citrus top notes with a heart of sweet floral magnolia, fig & invigorating green tea.
Celtic Charm
This is the fragrance for a woman who embodies the Celtic sense of welcoming. She is a loyal woman with a warm, kind heart who values family and friends above all else. This elegant, floral fragrance delicately blends the powdery notes of jasmine with rose & soft white petals, on a subtle base of vanilla & sandalwood.
Celtic Passion
Celtic Passion is the fragrance for a woman with an intense Celtic passion for life & love. She is creative, vibrant & confident with an active & inspiring imagination. This seductive fragrance combines the intoxicating aura of neroli blossom & sweet summer florals with a hint of spicy pink pepper & woody base notes.